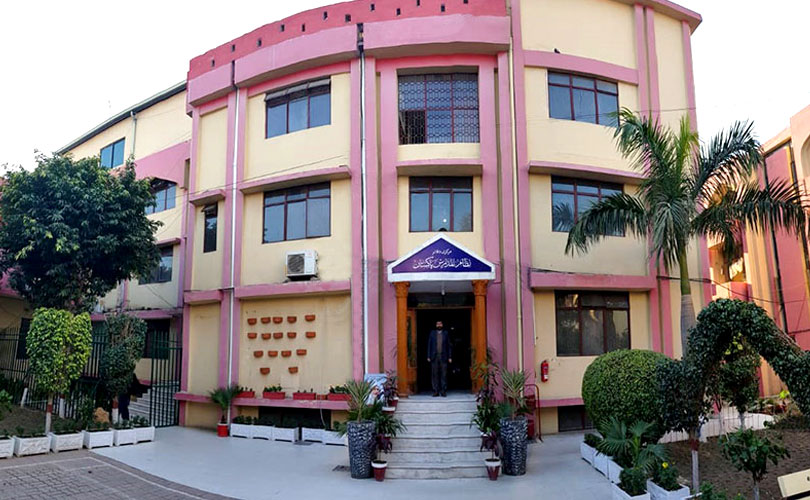 Nizam-ul-Madaris Pakistan has been established under the intellectual, scholarly and ideological guidance and leadership of Shaykh-ul-Islam Dr Muhammad Tahir-ul-Qadri, the founding-leader and patron-in-chief of Minhaj-ul-Quran International (MQI). He set up Jamia Islamia Minhaj-ul-Quran in 1986 in Lahore, a city known as a hub of knowledge and culture. The Jamia represented a blend of modern and classical knowledge aimed at producing a generation of scholars capable of offering solutions to contemporary problems in the light of Islamic teachings. The University Grants Commission (UGC), vide its notification no. Acad/92/2-10 dated April 28, 1992, authorized Jamia Islamia Minhaj-ul-Quran to issue a degree in Master's level courses equal to MA in Arabic and Islamic Studies. Later on, Higher Education Commission (HEC) endorsed the authorization vide its notification no. HEC/A&A/2003/415/16-8 dated April 8, 2003.
Keeping in view the exemplary services and contributions of Jamia Islamia Minhaj-ul-Quran in the field of education over a period of 35 years, Federal Ministry of Education and Technical Training, Government of Pakistan, approved the establishment of Nizam-ul-Madaris Pakistan vide its notification no. NCC/RE-46/2014-1 dated 04-02-2021.
Aims and Objectives
The teachings of Sunnah and the Holy Quran impart a lesson of moderation, tolerance, forbearance, unity and mutual brotherhood. They negate and forcefully reject extremism, sectarianism, and violence of every kind. Who does no know that the ideological and intellectual foundation of Islam is erected on the strong basis of unity? Nizam-ul-Madaris Pakistan has been brought into being to promote the lofty, universal, and comprehensive message of love, peace and dialogue in Pakistan as well as abroad.
The following is a list of the aims and objectives that Nizam-ul-Madaris Pakistan aspires to achieve:
1- To introduce comprehensive reforms in the system of religious education to organize it on modern lines
2- To purge all the accredited/registered Madaris and educational institutions of every kind of extremism, violent and sectarian thoughts, tendencies and biases
3- To impart moral and spiritual training to students in such a manner as makes them an embodiment of piety, excellent character, cleanliness and empathy, service to humanity, and patriotism so that they become advocates of real thought of Islam and source of spreading its universal message
4- To impart intellectual and ideological training to the youth and enable them to play their effective and useful role to promote real teachings of Islam, and foster unity by becoming the personification of tolerance and religious harmony and negating all negative influences such as extremism, radicalism and biases.
5- To expose male and female students to the contemporary sciences along with classical Islamic knowledge so that they can play a dignified, effective, useful and facilitative role in society and provide religious guidance to the coming generations
6- To provide students opportunities for vocational training so that they can live a life of dignity and confidence after stepping into the practical life and play their role for the socio-economic development of society through their practical contributions
7- To impart basic education in computer sciences to the students so that they are fully capable of using modern information and technological tools for the propagation of the faith
8- To impart education in social sciences subjects such as General Science, and Mathematics to the students so that they are primed to effectively convey the Islamic teachings to the modern minds
9- To impart instructions in subjects that promote interfaith harmony, peace, moderation and tolerance so that the scholars graduating from such institutions become embodiment of balanced and moderate thinking, and open minds and play their role of a peace maker and promoter of harmony in society
10- To take steps for the proficiency and expertise in English and Arabic languages so that the students can express themselves eloquently at the international level
11- To set up model religious seminaries at the district level so that they can become role model by way of quality of instruction and content among the cluster of such contemporary institutions